Robert Tracinski braced yet another cleansing ritual yesterday,
seeking absolution from the goddess of his idolatry with his umpteenth mountain of cotton-candy praise. Kim Jong-un should have such an apple polisher.
Tl;dr, of course, but the gist is this:
Ayn Rand, who died nearly-penniless after having had most of her 'investments' devoured by currency inflation, was also the world's greatest expert on business.
That's just sad, particularly because it's the only tune Tracinski ever plays:
Ayn Rand was the world's greatest expert on everything – except for, you know, everything that matters in life.
So I thought I'd balance the scales with a quick look at how the world's greatest expert on love, sex, marriage and family actually managed the actual motor of human civilization – marriage and family.
These are all matters of fact, so obsessively trying to 'disprove' them will give Rand's harried Ci victims something to do. And while you may think it's unfair for me to hold The Big O accountable for the wreckage of her marriage, it is beyond dispute that – unlike business or financial management – Ayn Rand was a world-class expert at wrecking marriages, her own and those of everyone who strayed near her for too long. The relative zeal of her inner circle can be quantified in divorces per decade of devotion to her. I wish I were making that up.
So: Herewith are the seven simple tactics Ayn Rand deployed with a methodical precision to assure that her marriage would be bleak, with both she and her husband miserable in it, that they would both die without issue, that she would destroy the marriage without permitting it to break, and that she and all her mincing minions would lie about all of this forever:
Ayn Rand's 7 helpful tips for wrecking your marriage with a total, lifelong commitment.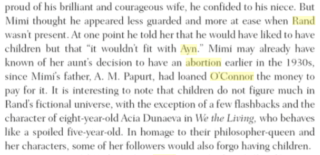 1. Latch onto the first guy who can't escape your clutches, even though you and he are temperamentally unsuited from day one.
2. Don't let him have any children. When one of his brave warriors surmounts every obstacle set before (more…)