Wikipedia's DISC Assessment page
, but that's truly inadequate for my purposes.
Why? Because I'm talking about my own reinterpretation of DISC based on the underlying mammalian and reptilian empathy strategies people deploy when making choices. I worked these out when I was writing Nine empathies and Shyly's delight, but I've only glossed those ideas here. That changes today, not alone because I want this post to link back to from future DISCussions.
So: Start here: DISC is a quick 'n' dirty personality profiling system for understanding how an individual person will tend to make choices. It is distinguished from the Myers-Briggs Type Indicator, which can help you understand how individuals think.
My opinion is that you should DISC be profiling the people in your life all the time. They are different from you, and if you are not constantly reminding yourself of those differences, you will become progressively more disappointed with their persistent failure to be you. The reason for that is an idea I call dyspossibility – and we'll get to that.
These are the DISC personality types, denoted with three different sets of appellations:

I've used a lot of different words for the DISC types over the years, but the terms I like best are the ones I came up with for Shyly's delight: Driven, Incandescent, Sociable, Cautious. Those terms offer us a way of understanding a person's personality from his own point of view – from the perspective of his over-arching value-pursuing motivation, which we can see here: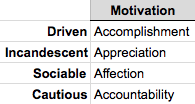 Driven people yearn to get things done, and this makes them socially dominant. The guy who claps his hands together hard and says, "C'mon! Let's do this!" is the Driven member of your social group. Driven people are natural leaders, the only kind of bosses people will tolerate without resentment.

The Incandescent craves attention. They are typically very well turned out, every hair in place, and they are often found (more…)

I talk about DISC all the time, but if you don't already know what I'm talking about, I may be leaving you lost. I often link to