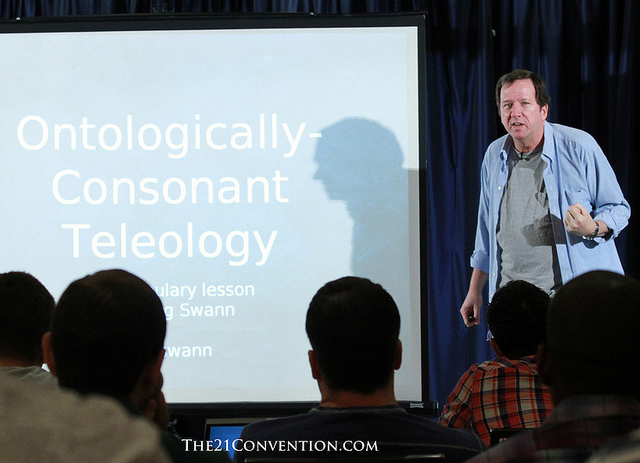 Anthony Johnson of The 21 Convention has posted another short clip from my presentation at The 21 Convention in Austin. This amounts to a short promotion of my novel, The Unfallen, but I manage to cover a wide range of topics in three short minutes:
* A counter-argument to the Pick-Up Artist philosophy.
* The disadvantages of having sex with strangers.
* The benefits of committed romantic relationships.
* The physiology of orgasms for both men and women.
I even work in a very masculine poem.
As with everything I have to say, there is copious documentation. Pursue these links if you would like to know more:
* For general observations on love and marriage, I refer you to the love and marriage post category.
* The Pick-Up Artist phenomenon is discussed in some detail in Chapter 10 of Man Alive! This is a topic to which I may return, because it is an interesting reflection of the de facto patricide that is Marxism.
* The ladies' auxiliary of the PUA platoon, which the "artistes" charmingly denote as "the cock carousel," is discussed here in a post called Fifty shades of pink sock: Facing up to and fixing the hook-up contradiction. There is more from me on this subject at FreeTheAnimal.com in a post entitled Fifty Shades of bleak: Looking for love everywhere it isn't.
* With the boys at The 21 Convention, I shared my past writing on thoroughly droolicious sex. You can share in those links by visiting this page: Beyond multiple orgasms: Mastering the art of frolicking naked with the one you love. Fair warning: If you don't know what actual adults do when they're alone and naked, you might want to hoard what remains of your ignorance. If instead you think of sex as being "dirty" in the other way — a means of deliberately soiling your self — you very much need to hear from me.
* And because I am an intellectual in everything I do, you can take up the underlying literary thinking behind the poem I read in the video in this post: Sunday school: Digging into a sexy love poem to get a handle on active, imagic, metaphor-rich writing.
All of these ideas are dealt with in The Unfallen, and I commend you to that book if your love life is not all you want for it to be. There are several posts about the book here, if you want to look before you leap:
* Love, sex and philosophy: My book The Unfallen is available on Kindle.
* Slave to love? Gwendolyn Jones is a sovereign woman.
* Brief reflections on The 21Convention: "It's a man's world, except when it isn't."
* From The Unfallen: The purpose of civilization…
* Love among The Unfallen at every wavelength of heaven's light.
You can buy an audio MP3 of my presentation at The 21 Convention Store. It's about an hour in length, and it's rife with sex, subversive politics and philosophy like you've never heard it before, so it's definitely worth your two bucks. Anthony Johnson has one more 21 Convention to come this year (and then no more until 2014). If you will be in Melbourne, Australia later this year, buy your tickets here. I had a great time in Austin, and I learned a ton of stuff I would have heard no other way. That's a big win all around.
Meanwhile: buy The Unfallen and read it in one big gulp. It will make your life better every day from now on.